Diversity, Equity & Inclusion
Celebrating, Embracing, & Sharing Diversity, Equity & Inclusion!
Our Mission: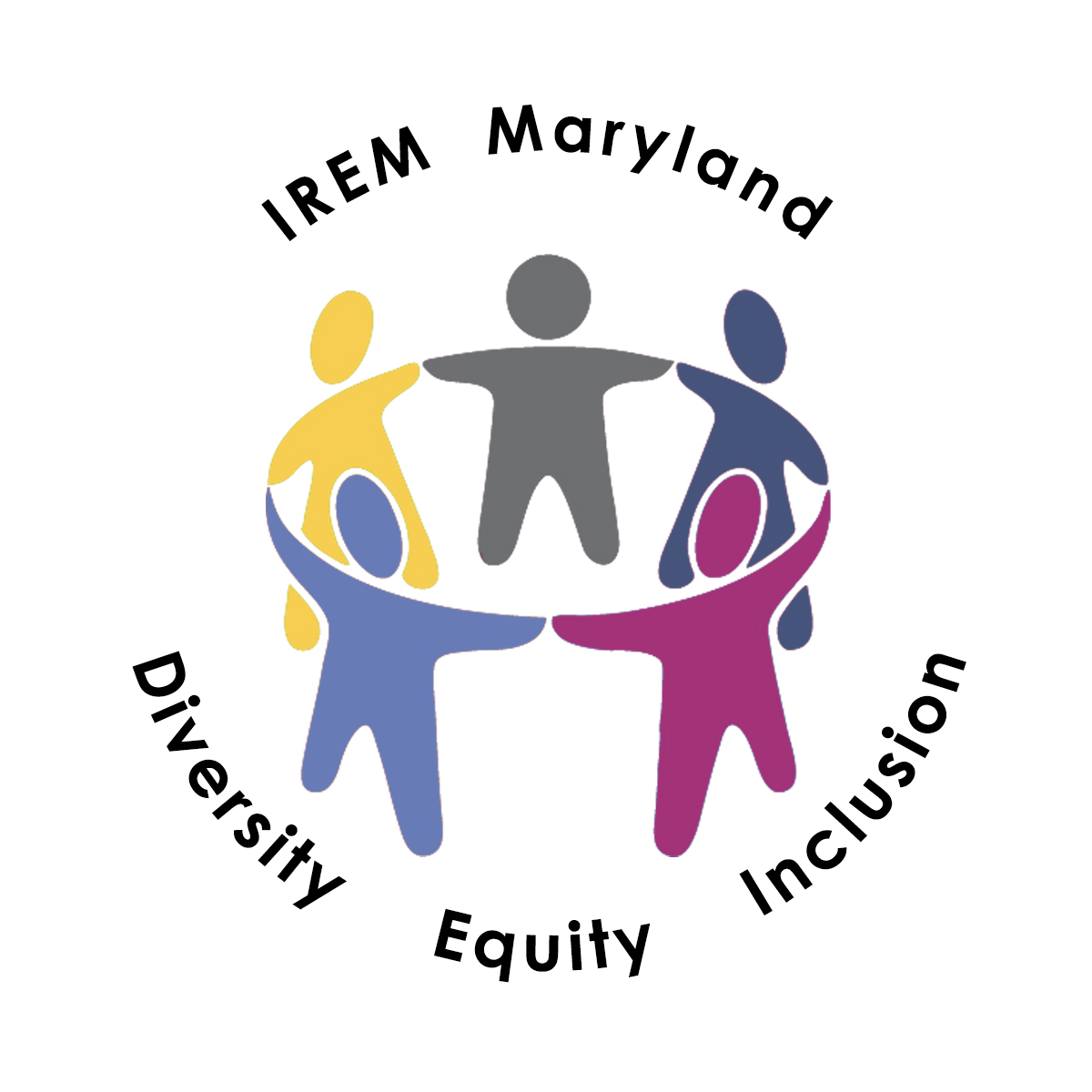 The IREM Maryland Chapter recognizes that there is strength in diversity and is committed to cultivating and promoting an ethical culture where differences are celebrated. We are committed to ensuring that members, industry partners, staff, and guests are valued, respected, and provided access to opportunities regardless of race, age, gender identities, sexual orientation, creed, national origin and/or (dis)abilities. Discrimination and inequality are not acceptable; therefore, we encourage all members to listen and learn as we take this journey together and provide ongoing support to disassemble systemic discrimination.
---
---
2022 DEI Suggested Readings:
NEW! Immortal Life of Henrietta Lacks; Rebecca Skloot
NEW! The Color of Law; Richard Rothstein
NEW! Out of Place; Edward Said
NEW! The Gay Revolution: The Story of the Struggle; Lillian Faderman
Better Allies: Everyday Actions to Create Inclusive Engaging Workplaces; Karen Catlin
Black Like Me; John Howard Griffin
Blind Spot: Hidden Biases of Good People; Mahzarin R. Banaji
Castle; Isabel Wilkerson
Dare to Lead: Brave Work. Tough Conversations; Brene Brown
Death of Innocence: The Story of the Hate Crime that Changed America; Mamie Till-Mobley
Deep Diversity: Overcoming Us vs Them; Shakil Choudhury
Gender: Your Guide; Lee Airton, PhD
Hidden Figures; Margot Lee Shetterly
How the Suburbs Were Segregated; Paige Glotzer
How the Word is Passed; Clint Smith
I Never Saw Another Butterfly: Childern's Drawings and Poems from the
Terezin Concentration Camp, 1942-1944; Hana Volavkova
Moloka'i; Alan Brennertt
My Own Words; Ruth Bader Ginsburg
Not In My Neighborhood; Antero Pietila
So You Want To Talk About Race; Ijeoma Oluo
The Black Butterfly: The Harmful Politics of Race and Space in America; Lawrence T. Brown
The Color of Law; Richard Rothstein
The Diary of a Young Girl By Anne Frank; Anne Frank
The Hate You Give; Angie Thomas and Nathalie Bru
The Immortal Live of Henrietta Lacks; Rebecca Skloot
The Sum of Us; Heather McGhee
The Warmth of Other Suns; Isabel Wilkerson
Waking Up White; Debby Irving
We Can't Talk About That At Work: How to talk about Race, Religion,
Politics, and other polarizing topics; Mary-Frances Winters
White Fragility: Why It's So Hard for White People to Talk About Racism; Robin Diangelo
Why Are All the Black Kids Sitting Together in the Cafeteria?; Beverly Daniel Tatum
Women in Science: 50 Fearless Pioneers Who Changed the World; Rachel Ignotofsky
Diversity Equity & Inclusion Committee